10 Day Bicycle Journey in AUS
M A W S O N   T R A I L  B I C Y C L E  J O U R N E Y 2 0 1 9
P R E P A R E D  F O R  M R  H I T E S H W A R  S I N G H  R A T H O R E
Australian Bicycle Journey
on the 'World Famous Mawson Trail'
South Australia, 10 Day Experience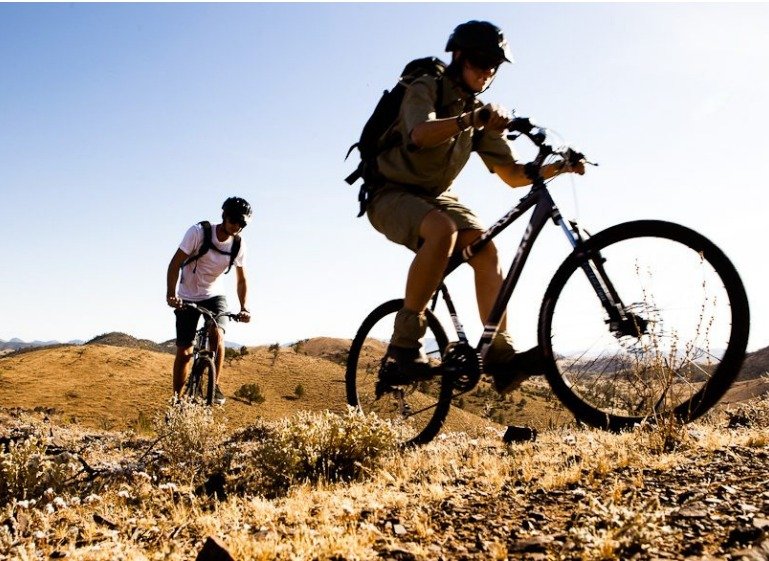 Mawson Trail Bicycle Journey 2019
The group will be welcomed upon arrival at Adelaide International Airport and transferred to their accommodation to rest and settle before an afternoon and evening of activities dependant on the flight arrival time.
The group will stay in comfortable dorm-style accommodation in the centre of Adelaide City at the Adelaide Central YHA, located in the Adelaide Central Business District, just a short walk to the city's favourite Adelaide Central Market and educational city attractions. The students will enjoy fresh linen and individual bed lights, good Wi-Fi connection, lockers for valuables, air-conditioning, access to communal kitchen for breakfast and a game room in the evenings if spare time permits
Today we check-out from our accommodation and walk over the the famous Adelaide Central Market. With over 70 traders under one roof, the Adelaide Central Market is one of the largest undercover fresh produce markets in the southern hemisphere, buzzing with life and colour all year round. The Market offers a huge range of fresh food including fruit and vegetables, meat and poultry, seafood, cheeses, bakery, small goods and health foods, along with some of Adelaide's most popular cafes and eateries. We will choose meats and vegetables that we will prepare over the campfire throughout our bicycle journey. With over 9 million visitors every year, the Adelaide Central Market remains Adelaide's premier food destination for multicultural cuisine and fresh produce. We will enjoy lunch at the market and then travel north from Adelaide City to Spalding township in the Southern Flinders Ranges of South Australia. Here we will have our first night sleeping in Aussie swag bed rolls in preparation to start our bicycle journey from here the next morning. The entire Mawson Trail is scenic, and the northern section we will explore is visually dramatic and challenging. This evening we will enjoy cooking around a campfire with a clear night sky full of stars. Students can rest early for an early breakfast.
About the Mawson Bicycle Trail
The famous Mawson Bicycle Trail is an epic-scale route for mountain bikes or rugged touring bikes connecting the distant outskirts of Adelaide through natural landscapes to the heart of the Flinders Ranges in outback South Australia.
Cyclists can expect spectacular views, abundant wildlife, unique flora and extensive vistas to reward their hard physical work.
Students will be assisted by an experienced professional mountain bike cyclist who will accompany and lead the bike journey from Spalding to Blinman.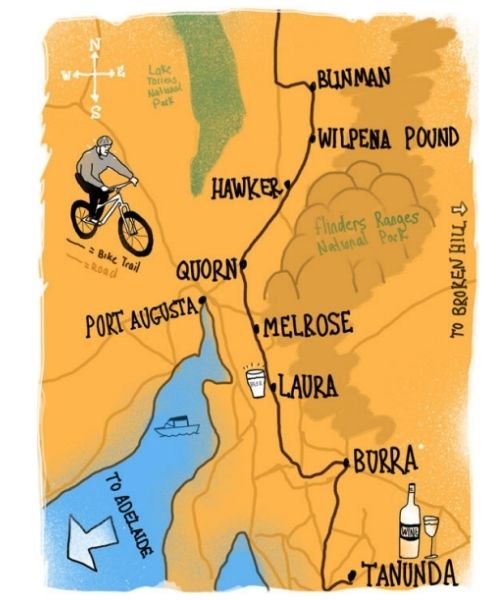 Day 3: Spalding to Laura (80km)
The starting location offers interesting challenges, there's a long steep climb through a valley, an excursion in the Bundaleer forest and across some grasslands. This is a very nice day's riding. The last 30 km into Laura township is very enjoyable along some nice dirt. Laura township is the spiritual home of Golden North Honey Ice Cream, so it is a must that students taste this local delicious creamy ice-cream to celebrate their first day of riding in Australia! This evening we will camp in the picturesque grounds of the The Laura township Community Park.
Day 4: Laura to Melrose (60km)
The day starts flat, and then kicks slightly to the west along a fabulous route. It's got some climbing, and few sections that might even be termed "technical" as you need to pick a line along rutted and stony vehicle tracks. The trail then goes though the Wirrabra forest. A picturesque section generally on good roads. Then riders cross the Germain Gorge road, and have a lovely ride in to Melrose. Melrose is a mountain biking haven: there are constructed tracks for all levels of riders, and competitions and events are held there regularly. There's a very good bike shop "Off the Edge" with knowledgeable and helpful staff that students might like to visit. We will camp at the Melrose township camping grounds, nestled in the spectacular Southern Flinders ranges at the foot of Mount Remarkable. Melrose township is the oldest town in the Flinders Ranges. Students will have some free time to explore the township and the National Park which encompasses the Mount Remarkable
Day 5: Melrose to Quorn (75km)
There's lots of diverse wildlife and some incredible views to be had – the 960m high Mount Remarkable Summit presides over the Willochra Plain and looks out to the Spencer Gulf. Students may see animals everywhere in Mount Remarkable and many of them are not shy. Goannas lurk on rocks as cyclists ride by, emus trot through the camps and along the tracks, and kookaburras mock you while you cook dinner over the evening campfire. You may even spot an elusive echidna. A birdwatcher's delight, the park has 117 native bird species including brightly coloured variegated wrens, Australian ringneck parrots and wedge-tailed eagles. Tonight we will camp surrounded by parklands, in a peaceful and beautiful setting at the Quorn Park. Once settled we will gather around the communal campfires and watch the Outback night sky turn into millions of stars.
Day 6: Quorn to Hawker (110km)
A leg of long, flat dirt roads with expansive interesting scenery. The Central Flinders Ranges begin to appear in the east as students ride up a valley and lovely blue/green rolling hills welcome you to the land that is to follow. This is a transition day to the interesting country that starts north of Hawker. The 110km might sound tough, but the roads are straight and level. Students will enjoy another evening of meals prepared over the camp fire under thousands of stars. Tonight we will camp at the home of group leaders Paul and Karen Ellis on the outskirts of Hawker township. Enjoy their hospitality and warmth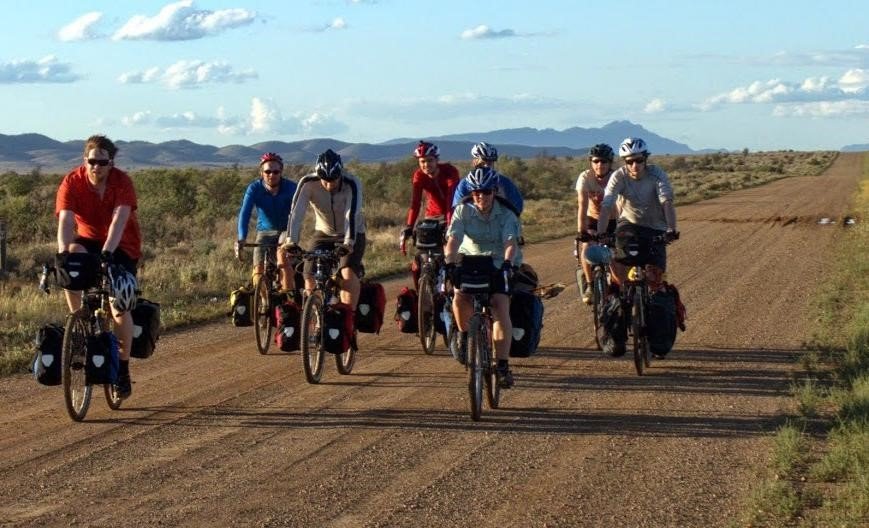 Day 7: Hawker to Rawnsley Park Station (90km)
Today the scenery is dramatic as cyclists spend a lot of time with great views of the famous 'Elder Mountain Range' on their right to the north. We arrive into a natural wonderland at Rawnsley Park Station for camping, cooking and camp-fire building. Set within a beautiful bushland setting and dotted with native pines and gum trees, this setting offers students secluded bush camping for a true Australian Outback night under the stars.
Day 8: Rawnsley Park to Wilpena Pound ( Ikara National Park ) 27 km
This is a very short section, but it is especially enjoyable. Leaving Rawnsley Park Station students will experience a real single-track. Lovely riding awaits and a spectacular backdrop view of Rawnsley's mountainous bluff. Slip a short way up the bitumen and it's on to the old telegraph road. This is an unmade vehicle track and a delight to ride. There's a bit of bitumen into Wilpena Pound to complete the days ride. Students will remember this section for the rest of their lives, it's a lovely bit of riding in a very unique landscape. Wilpena Pound is a National Park of International significance and students can set up camp early today in the large camping grounds. Tomorrow will be a semi rest day and for exploration of the National Park. Several activities will be offered including a tour with Aboriginal guides and a guided walk to view the magnificent endless vista of Wilpena Pound.
Wilpena Pound to Blinman township and Parachilna Gorge (80km)
Today there is a super climb and incredible views of the 'Heysen Mountain Ranges' and 'The ABC Ranges'. The last 20km to Blinman is bitumen, and then we are back on dirt and into the Parachilna Gorge to find a picturesque camp spot for the final nights camp fire and camp oven cooked meal. Tonight we will have a circle to share highlights of the days achieved and discuss the remaining days activities in Adelaide City and surrounds.

Day 9 – Transit Day Returning to Adelaide Via Sightseeing Townships (480Km)
Students can assist with packing bicycles ready for their return. They can then rest and recover on the journey back to Adelaide. We will stop for lunch and bathroom breaks along with way, returning to our original accommodation at the Adelaide City YHA. Students can decide whether they would like Australian food or an Indian meal before arriving back to their accommodation for an early evening.
Day 10 – ADELAIDE DEPARTURE
June 25th – Airport transfers and farewells